Dinosaur Accoutrements: What Good Were They?

Ever wond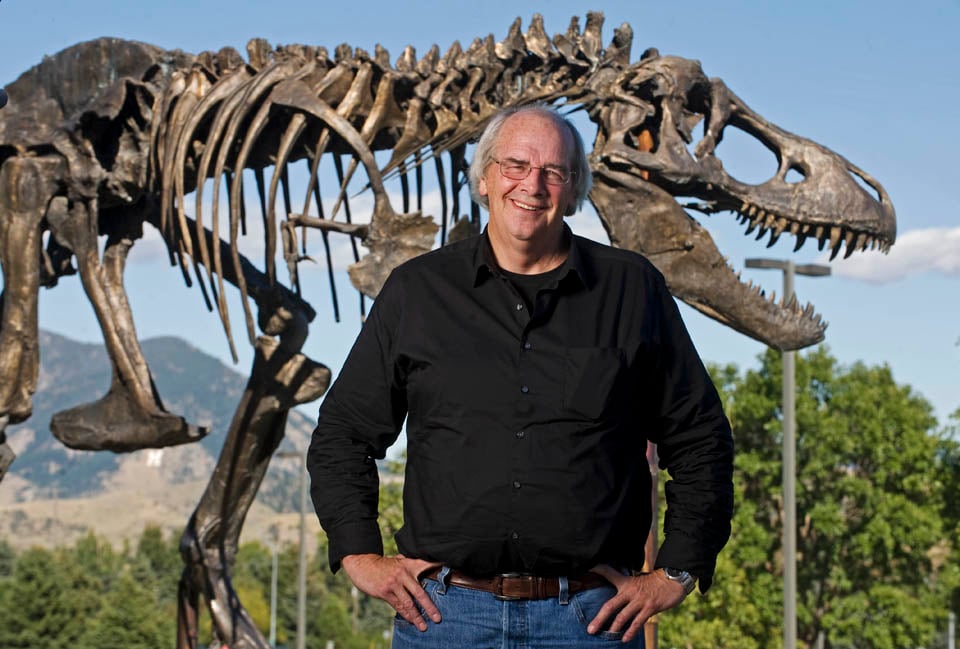 er what good dinosaur accoutrements were or why they matter? You have a chance to find out on Thursday, May 28, 7:00 pm at the Great Falls Public Library. The library is hosting Jack Horner, the world-renowned paleontologist, who helped create dinosaurs for the film Jurassic Park. Montana born and raised, Horner is best known for his work on the cutting edge of dinosaur growth research.
Horner has authored numerous professional papers and six popular books. Currently, he is the Curator of Paleontology at the Museum of the Rockies, the Regent's Professor of Paleontology, adjunct curator at the National Museum of Natural History, and teaches with the Honors Program at MSU in Bozeman.
Much of Horner's current work in recreating a dinosaur has the potential to lead to new treatments for people suffering from spinal disorders and human sarcomas. George Lucas has been one sponsor for much of this current research.
Along with his valuable research and scientific discoveries, Horner is known to be an engaging speaker who makes science both accessible and fun for the layman. This program is free and open to the public.
---
Friends of the Great Falls Public Library Book Sale
In preparation for the Friends of the Great Falls Public Library annual spring book sale, which takes place in May, they are now accepting donations. Donations may be brought into the library at any time during library hours. The group is also holding Donation Days to accommodate larger donations and/or to provide assistance with donations. If you choose to bring your items in on these days, you go to the alley entrance of the library.
The Donation Day schedule is as follows:
Saturday, January 31 10 am – 2 pm
Saturday, February 28 10 am – 2 pm
Saturday, March 28 10 am – 2 pm
Saturday, April 25 10 am – 2 pm
All donations are appreciated, but the following will not be accepted:
Magazines
Text Books
Encyclopedias
Condensed Reader's Digests
VHS Tapes
Audio Cassettes
Items in Poor Condition

The Friends of the Great Falls Public Library will hold its annual used book sale Wednesday, May 13 from 4 – 7 pm
(This evening is for members only. If you are not currently a member, you may attend the sale by joining the group that evening for the $15 annual dues); Thursday, May 14 from 4 -7 pm, Friday; May 15 from 11 am – 5 pm; and Saturday, May 16, from
11 am – 4 pm on the third floor of the Public Library. There will be no cost to attend the sale on May 14, 15, or 16. Saturday will be Sack Sale Day. People may purchase a bag of books for $2 or a box of books for $5 on that day only.
The public is encouraged to attend the sale to take advantage of great used books. All public support of this sale directly supports the library. Proceeds from this sale support various library projects regular budgets do not allow. The Friends have sponsored a wide variety of programs at the library over the years, including Montana Repertory Theater productions, musical performances, and the Festival of the Book. The group has also sponsored book kits available for check out for book discussion groups, Wii gaming, interactive computers for the Kids' Place, and a variety of other projects for the Kids' Place and library.
Friends of the Public Library is a voluntary organization that values, supports, and champions the public library in ways that include, but are not limited to, advocacy, sponsorship, and organizing special events and projects for the library, such as this book sale. Members can choose their own level of involvement, either through active involvement or through membership dues, with both levels supporting the library and the community. For further information or to assist with the sale, call Jude Smith at the library at 453-0349.
---
Tricks of the Trade
The Great Falls Public Library is presenting the film screening of Tricks of the Trade: Outsmarting Investment Fraud on Thursday, May 7 at 7:00 pm. This program is free and open to the public.
Investment fraud affects thousands of Americans and accounts for billions in lost personal savings every year. Regardless of age, location, or circumstance, we are all at risk. This new documentary sponsored by AARP explores who is at risk and how influence tactics can leave even the savviest person in a psychological haze. The film offers real-life stories from victims and fraud criminals, experts in the study of fraud and persuasion, and interviews with fraud investigators and securities regulators.
For investors, knowledge is power – knowing how to protect yourself and your finances is vital when it comes to fraud. Armed with the right information, you keep control of your money.
---
The OpenBooks Discussion Series, which runs October – May, continues on Thursday, April 2, at 7:00 pm, in the Montana Room of the library. These discussions, sponsored by the Great Falls Public Library Foundation, are free and open to the public. You may attend any and all of the discussions. Books are available at the library three weeks prior to each meeting. You will need a library card to check a book out whether you attend the discussion or just read the book. Discussions are facilitated by Penny Hughes-Briant, a former teacher at UGF. For more information on this series call 453-0349.
April's selection is
Fobbit by Montana author David Abrams
. A retired army journalist Abrams
tackles many of the Iraq War's absurd contradictions. He accurately reflects the Iraq War's humor, bitterness and disarray - this is not simply a "war novel," but an "Iraq" novel, clearly representing the place and time. You'll laugh because it's funny; you should weep because it's true.
Page Forward Saturdays
will discuss
Indian Creek Chronicles by Pete Fromm on Saturday, April 11, 10 a.m.
This group meets on the second Saturday of each month year-round. It features books by Montana authors or about Montana. This selection is the first work written by Fromm, telling the story of
seven winter months spent alone in a tent in Idaho guarding salmon eggs and coming face to face with the blunt realities of life as a contemporary mountain man. A gripping story of adventure and a modern-day Walden, this contemporary classic established Fromm as one of the West's premier voices.
Page Forward Tuesdays will discuss Nicholas Nickelby by Charles Dickens on Tuesday, April 28, 7:00 p.m. It meets the fourth Tuesday of each month at 7:00 p.m. It offers "fiction for fun" reads. This month's selection was hailed as a comic triumph and firmly established Dickens as a 'literary gentleman'. It has a full supporting cast of delectable characters and includes the typically Dickensian elements of burlesque and farce. Nicholas Nickleby is widely regarded as one of the greatest comic masterpieces of nineteenth-century literature.
---
The Great Falls Public Library is hosting Darnell and Smokey Rides at the Door when they present Blackfeet World View on Thursday, May 14, at 7:00 pm. This program,which is free and open to the public, is part of the Humanities Montana Speakers' Bureau.
These two South Piegan elders and traditionalists share the history of the South Piegan from their genesis stories through to their contemporary way of life. Audiences learn about the South Piegan origination stories, spirituality, language, songs, relationship to the cosmos, family dynamics, and role of arts and sciences in Indian life. These topics are melded together to give a greater appreciation of the Ampskapii Pukuni of Montana. The presentation captures a worldview expressed in modern context and explores where tradition meets technology, from "smoke signals to satellites."
---
Explore, Discover, Connect:
An Evening of TED Talks and Lively Discussion
TEDxGreatFallsLibrary continues on Tuesday May 19, 7:00 pm. This program is free and open to the public.
TED is a nonprofit devoted to Ideas Worth Spreading. It started out in 1984 as a conference
bringing together people from three worlds: Technology, Entertainment, Design. TED has created a program called TEDx. TEDx is a program of local, self-organized events that bring people together to share a TED-like experience. TEDxGreatFallsLibrary is an independently organized event licensed by TED. This event continues on the third Tuesday of each month. Each month we will show several TED Talks videos featuring experts in their fields sharing cutting edge ideas, innovation, and progressive ways of applying expertise for the betterment of society. A lively discussion will follow.
May's selections are:
How we can eat our landscapes by Pam Warhurst
How I fell in love with a fish by Dan Barber
A plant's-eye view by Michael Pollan