Great Falls Public Library


301 2nd Ave North
Great Falls, Montana 59401


406-453-0349
Fax 406-453-0181
questions@greatfallslibrary.org


Fri, Sat 10am - 6pm
Tu-Th 10am - 8pm
Sun, Mon Closed



Hours:
Sundays & Mondays CLOSED
Tuesdays, Wednesdays, & Thursdays 10 am- 8 pm
Fridays & Saturdays 10 am - 6 pm
The Great Falls Public Library will be closed on Tuesday, November 11, in recognition of Veterans' Day. The library will also be closed on November 27 and 28 in honor of Thanksgiving.
---
Please join us Monday, November 24 and raise a pint with us!
The Board of Trustees of the Great Falls Public Library Foundation has announced the foundation kicked off its 25th Annual Book-A-Thon fundraiser November 1, 2014. Originally conceived in 1990 as a way to assure the library would continue to be able to carry quality books for children, over $680,000 has been raised from the generous Great Falls community for which the foundation and the library will be forever grateful, says Teresa Shiner, Foundation Board President.
One half of the proceeds are used to purchase children's books for the library. The other half is reserved to ensure that future Great Falls area children will also benefit from the very best children's literature. "The annual fundraiser gives us all the opportunity to make a lasting difference in the lives of our children -- the greatest gift we can give them. This will truly make a lasting difference in the educational and cultural life of our children and the community," Shiner said. "There is an ever growing, never ending demand for quality children's books."
To contribute to the Book-A-Thon simply send your check payable to the Great Falls Public Library Foundation to PO Box 742, Great Falls, MT 59403. Shiner also wanted to remind employees to ask their employer about a matching program for charitable contributions.
In conjunction with the 25th anniversary of the Great Falls Public Library Foundation's Book-A-Thon, you are also invited to Raise-a-Pint at the Mighty Mo Brew Co., on November 24th from 5:00 – 8:00 p.m.
Thank you for helping us support the library, our great community resource. The children of Great Falls will be forever in your debt.
---
Page Forward
The Page Forward book discussion groups introduced by the Great Falls Public Library this year continue in November.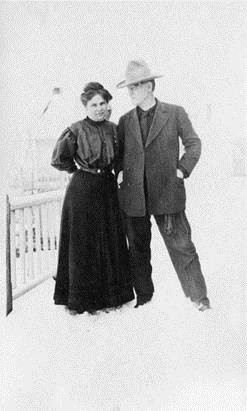 Page Forward Saturdays continues on Saturday, November 8, 10 am, and continues on the second Saturday of eachmonth. This discussion group is unique in as much as each month's discussion will be a celebration of the 100th anniversary of women's suffrage in Montana and will focus on books written by and about Montana women.

November's selection is Behind Every Man: The Story of Nancy Cooper Russell by Joan Stauffer. After Nancy Cooper married Charlie Russell in 1895, she helped turn a journeyman cowboy and ranch hand who sketched and sculpted in his spare time into a full-time artist who sold and exhibited all over the globe. In Behind Every Man: The Story of Nancy Cooper Russell, Joan Stauffer offers the first biography of the person whom Charles Russell called "the best booster and pardner a man ever had." Stauffer's portrait, evoked in the voice of its subject and based on a decade of research, offers readers both a complete life story of Nancy Russell and creative insight into her thoughts and feelings.

Stauffer reveals that Nancy and Charles's union created a practical synergy. Always an advocate for her husband, a steward of his art, and a liaison to his admirers and critics, Nancy's greatest contribution may have been the inspiration she provided Charles. "I done my best work for her," the cowboy artist once remarked.
Page Forward Tuesdays continues on Tuesday, November 25, 7:00 pm, and continues on the fourth Tuesday of each month. November's selection is the New York Times bestseller Defending Jacob by William Landay. It tells the story of Andy Barber, who has been an assistant district attorney for two decades. He is respected in his professional life and happy in his personal life with his wife, Laurie, and their teenage son, Jacob.

Andy's life is shattered by a shocking crime: a young boy stabbed to death with the accused is Andy's own son, Jacob. Despite damning evidence and mounting pressure, included a faltering marriage, Andy believes in Jacob's innocence. Any parent would.
It is the ultimate test for any parent: How far would you go to protect your child? It is a test of devotion. A test of how well a parent can know a child. For Andy Barber, a man with an iron will and a dark secret, it is a test of guilt and innocence in the deepest sense.

---
Greasing the Wheels of Gratitude

In the spirit of Thanksgiving, the Great Falls Public Library is hosting the program "Greasing the Wheels of Gratitude" presented by Alice Kestler on Thursday, November 20, 7:00 pm. This program is free and open to the public. Although not required, registration is encouraged. You can register by either calling 453-0349 or stopping by the 2nd floor Information Desk.

Alice will walk people through techniques for making their own gratitude beads. Necessary tools and supplies will be provided. Along with sharing bead making techniques, Alice will also talk about the history and variety of prayer beads, upon which this practice is originally based. In this case, however, the focus of the beads will be on developing a daily practice of gratitude. It is not associated with a particular church, synagogue, or religion, but rather is focused on the personal practice of reflecting gratitude in one's life. This is a technique that is incorporated in many positive life philosophies.

Along with working in the Information Department at the library, Alice calls bead work one of her avocations. She has experience using beads as a spiritual practice, especially in making gratitude a part of her daily life. She looks forward to introducing this practice to others by helping them make their own beads.
---
Little Free Libraries
Made possible by a grant from NeighborWorks Great Falls, funding from Friends of the Great Falls Public Library, hours of building and painting by numerous volunteers, and book donations from our community

Neighborhood Council #1 Neighborhood Council #6
Meadowlark Park Sunnyside Park
2801 Fox Farm Road 1412 High Street
Neighborhood Council #2 Neighborhood Council #7
Rhodes Park Carter Park
812 Central Avenue West 611 3rd Street South
Neighborhood Council #3 Neighborhood Council #8
Jaycee Park North Kiwanis
225 23rd Avenue Northeast 509 23rd Street North
Neighborhood Council #4 Neighborhood Council #9
Heren Park Lion's Park
4415 4th Avenue North 2701 10th Avenue South
Neighborhood Council #5
Russell Park
3333 17th Avenue South
---
Art @ the Library
IIn November the exhibit featuring the work of the Studio 706 Artists' Guild continues. This exhibit includes paintings, drawings, photographs, and more. It will be available to the public through the end of the month.
Studio 706, a nonprofit artist's guild, was founded in 1997 to promote fine art, expose the community to local artists, teach and enrich local artists, and provide scholarships. The guild offers classes, mentoring, studio privileges, and exhibition opportunities to artists working in a variety of media. In addition it provides scholarships to Cascade County high school seniors planning to pursue art studies in college. In 2008, Studio 706 awarded $1500 in college scholarships. This money is primarily raised from the Guild's art sales. Membership to the Guild is open at a nominal cost. For more information on the guild, call 452-5771.
For more information on the art exhibits call 453-0349.
---
The Great Falls Public Library is re-instating bookmobile service for city stops effective July 16 thanks to a generous donation of $5000 from Barb Teberg and Bill Tacke of Great Falls. Teberg and Tacke believe the bookmobile is vital to our community and want to see it continue. The donated funds will keep the bookmobile running in the city through the end of the calendar year. It is the hope of the donors that others will step up and fund it through the end of the fiscal year (June 30, 2015). You can see the current bookmobile schedule here. Kathy Mora, library director, said, "The generosity of the donors is amazing. We know how important the library is to the community and it's wonderful that bookmobile service to the city will continue for this year."
Also, effective July 1, the following fee adjustments will be in effect: Interlibrary Loans will be $3.00 per item requested; notary services will be $3.00 per transaction; and black and white computer printouts will be $0.15 per copy.